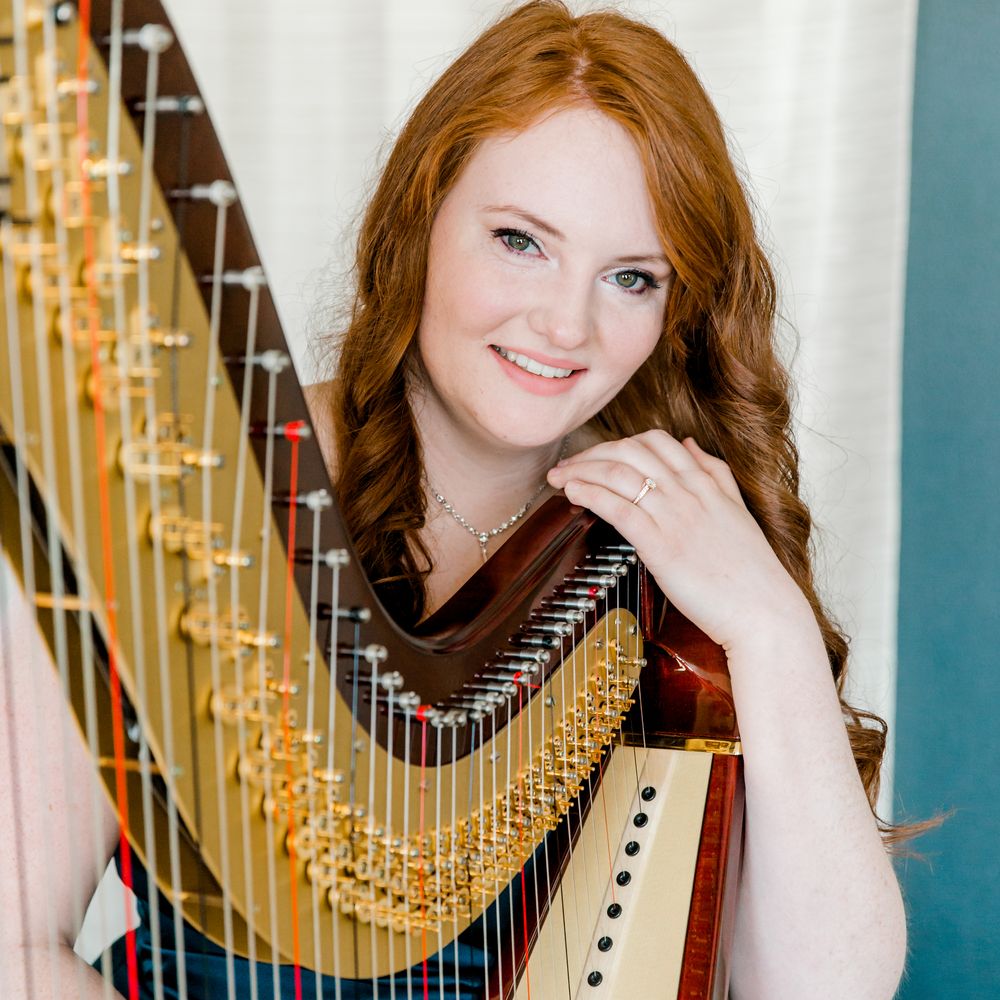 Professional Harpist
Hello! My name is Saylee Johnson, I'm based in Utah County. I will graduate with my bachelors degree in music with an emphasis in harp performance from the University of Utah.
I began playing the harp over 15 years ago and in that time have grown into a professional performing harpist.
I've been in national and international harp competitions, I've played in many settings including large orchestra settings, quartets, trios, duos, as well as being a member of the Universities Crimson harp ensemble, and of course many solo works.
I love customizing music for each wedding and event I play for no matter if it's more traditional or all Disney!
Hello! 
My name is Saylee Johnson. I am a harpist and harp teacher in Eagle Mountain and Daybreak, Utah. I have been playing the harp for over 12 years and love it. I am a music performance major currently at the University of Utah under the harp director Dr. Cathryn Clayton. I also like to share my love of music with anyone I can. I am located in the city center in Eagle Mountain, Utah or Daybreak in South Jordan, Utah. 
I have attended the Arizona Harp experience with professional harpists Dr. Carrol McLaughlin and Dr. Cathy Clayton twice. Attended master classes from Dr. Lizary Rodriguez, Dr. Carrol McLaughlin, Heidi Lehwalder, and Jaymee Haefner. I studied under the world renowned harpist Julie Gaisford Keyes for four years. I have played at the Utah American Harp Society State Festival multiple years in a row, as well as judged at the festival in recent years, and was honored to receive a Pratt scholarship from that festival.
I have performed with several harp ensembles that include between 6 and 18 harps and am a current member of the U of U Crimson harps ensemble. I've had the opportunity to gather experience playing with orchestras and bands. I played with the University of Utah's campus symphony for a year, the U of U wind ensemble for a year, and am a current member of the Utah Philharmonia symphony. I have played with different pit orchestras for musicals and operas.
I also have had the chance to perform at the Lyon and Healy Honors Recital in Salt Lake City, along with countless other recitals through out the years. I competed in the YAHS emerging artists international competition.
I also really love playing with the Salt Lake City String Quartet. I love sharing my music for weddings and events and sharing my music knowledge with my students.